Moldova Natural environment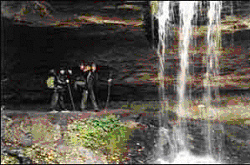 Moldova is a hilly plain that includes three physical geographic zones: forest, forest-steppe and steppe. The maximal altitude is of 429.4 meters. The main rivers in Moldova are the Nistru and the Prut.

Flora and fauna combine elements of different origin and under the influence of relief and soil-climatic features two types of vegetation prevail: woodland vegetation and steppe vegetation. Forests are predominated by oak trees, elm, beech and hornbeam. Steppe vegetation has been preserved only in certain areas in the form of patches of steppe vegetal associations.

The climate in Moldova is temperate. The average annual temperature is 8-10°C above 0, (on January 3-5°C bellow 0, on July 20-25°C above 0). The average annual rainfall level is about 380 mm in the South and 560 mm in the center and northern parts.


Natural resources


Moldova's water bodies are part of the Black Sea Basin. The main rivers are Nistru and Prut and a small portion of Danube River reaches Moldova in the southern part. Lakes are small, being located mainly in the river meadows of Prut and Nistru. Mainly to this inter-river location Moldova has the most fertile soil, that consist the treasure of the republic.

The same time Republic of Moldova has natural resources used to make construction materials and namely: granite, stone, limestone, clay, grit-stone, etc.