Republic of Moldova - General Information

The Republic of Moldova is a small country, located in South-Eastern Europe, bordering Ukraine to the North, South and East, and Romania to the West. The land surface of Moldova covers 33.7 thousand square kilometers. The maximum distance between its extreme points West-East is 150 km, and North - South extreme points - 350 km. The main rivers of Moldova are Dniester (Nistru) and Prut.
Area: 33 700 km2
Population: Republic of Moldova has a population of 4,439,502 (July 2003 est.). Ethnic groups: About 65% of the population is Moldovan/Romanian, 14% Ukrainian and 13% Russian.
Major cities:
Capital - Chisinau, more than 800 000 citizens
Tiraspol - 184 000
Balti - 162 000
Tighina - 132 000
Language: Moldovan (official, virtually the same as the Romanian language), Russian, Gagauz (a Turkish dialect)

Religion: Orthodox Christianity, Roman Catholic, Judaism, Moslem (Islam)

Administrative Units: Republic of Moldova consists of 32 districts, and Administrative-Territorial Unit Gagauzia with three districts, the Municipality of Chisinau (the capital of Republic of Moldova) and the Municipality of Balti


National Currency: Lei (MDL)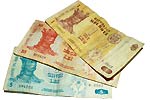 Lei 1 = 100 bani;


Money
In Moldova there are a lot of exchange departments besides banks where it is possible to change any currency of the world. Some exchange departments work nonstop. The most usable currency is American Dollar and Euro. You can change them easily.
All malls, supermarkets and shops accounting is made though in the national currency only. As a rule, in large trade centers there is a currency exchange office. "Visa" and "Europay / Mastercard" plastic cards are frequently accepted for payment. There are a lot of Cash Dispensers throughout the city and one who has a credit card can take off the cash money (in Moldavian leis).
The Traveler Checks can as well be changed in the backs.
Customs system:
As far as the import in the country and the export from it is concerned not more than 1 block of cigarettes (200 pieces) and 1 liter of strong alcoholic drinks are authorized. The cash money in up to 5 000 US dollars volume (or the equivalent sum in other currencies) are not required to be declared. The video cameras, personal portable computers and other equipment need the compulsory declaring.

Food:
There are many interesting restaurants in Chisinau, which are worth visiting while staying in Moldova. As a rule, they offer the visitors some traditional European and national (the symbol of which is definitely the Moldavian "mamaliga") cuisine dishes. Besides that there are Mexican, Irish, Russian, Indian and Chinese, Japanese, Jewish, Italian cuisine restaurants.
Climate:
Moldova's climate is continental, with warm, semi-humid summers and cold winters, mild springs, long warm autumns (Indian Summer)
Local Time:
Republic of Moldova is in the Eastern European Time Zone (GMT+2 hours). When it is noon in Chisinau it is: 11:00 in Paris, Berlin and Amsterdam, 10:00 in London, 05:00 in New York, 19:00 in Sydney and 13:00 in Moscow.
A great advantage of the Republic of Moldova is its geographical location. Republic of Moldova is an integral part of the East-West and North-South transport corridor and also the new "Silk Road". Positioning of the country between two rivers offered an excellent soil combination favorable for agriculture development and grapevine cultivation.

One of the most important achievements in the political life of Republic of Moldova was the adoption of Declaration of Independence in 1991 and a new Constitution in 1995, which declared the Moldavian's people desire to live in compliance with the principles of the protection of the human rights and the maintenance of democracy and sovereignty.

The Government of Republic of Moldova welcomes foreign companies and is prepared to co-operate with them fully.